March 27, 2023
On March 14, 2023, Customs and Border Protection (CBP) unveiled a new interactive tool –– the UFLPA Statistics Dashboard –– that provides detailed and helpful insight into its enforcement of the Uyghur Forced Labor Prevention Act (UFLPA).
The UFLPA Statistics Dashboard provides data on the enforcement of the UFLPA by fiscal quarter, aggregating data on the value and number of shipments that have been subject to examination under the UFLPA, as well as the industry and country of origin of the goods subject to detention.
The UFLPA went into effect on July 21, 2022, and established a rebuttable presumption that all merchandise coming from the Xinjiang region of China (XUAR) is a product of forced labor. The UFLPA captures all upstream and downstream merchandise coming from the XUAR, and does not include a de minimis provision.
At CBP's Forced Labor Technical Expo, which took place on March 14-15, 2023, CBP emphasized that aggressive enforcement of the UFLPA will continue to remain a top priority for the Agency. The UFLPA Statistics Dashboard provides some key insights into the patterns of enforcement actions taken by CBP:
The total number of shipments examined under the UFLPA is 3,237. Of those, 424 shipments have been denied (13%), 1,090 have been released (34%), and 1,723 are pending a decision from CBP (53%).
Shipments (by value) examined by CBP jumped from $7.57 million USD in Q3 of 2022 to $464.90 million USD in Q4 of 2022. In Q1 of 2023, the data show a decrease in value to $304.73 million USD.
Of the shipments examined by CBP, the top three industries are Electronics (50%), Apparel, Footwear and Textiles (20%), and Industrial and Manufacturing Materials (13%).
By country of origin, Malaysia had the most shipments examined by value, at $491.19 million USD (51%), followed by Vietnam at $369.93 million (38.5%), China with $89.68 million (9%), Thailand at $6.92 million (0.7%), Sri Lanka with $1.64 million (0.17%), and all other countries with $1.66 million (0.17%).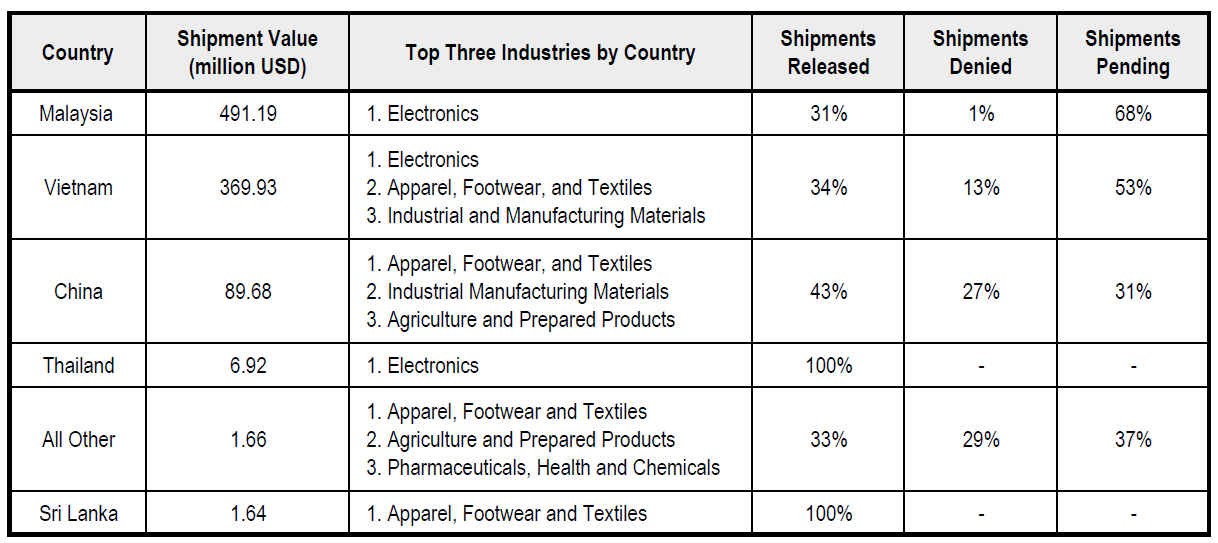 *                            *                            *
Key Takeaways
CBP's enforcement of the UFLPA is robust:
The Agency is not just examining shipments that come directly from China;
All merchandise, no matter the country of origin, that had upstream or downstream inputs from or manufacturing in the XUAR are subject to the UFLPA; and
Importers must have total transparency within their supply chain to ensure that no part of their supply chain takes places in Xinjiang.
But it is possible to rebut the presumption that merchandise from the region is made with forced labor and get the merchandise released. A deep understanding of one's supply chain can aid in providing evidence to rebut the rebuttable presumption when merchandise is detained under the UFLPA and assist CBP with its mission to eradicate all goods made with forced labor from the United States.
The UFLPA Statistics Dashboard can be accessed at https://www.cbp.gov/newsroom/stats/trade/uyghur-forced-labor-prevention-act-statistics
Customs